"Blues for Grownups"
The deep, deep blues. The kind of blues you used to hear on a distant radio station broadcasting from somewhere down south, late at night. The kind of blues where you wake up early in the morning and all you can think of is your lover and you wonder where they've gone. The kind of blues that makes you want to go somewhere and dance or shout or just be alive. Those kinds of blues.

Bret Littlehales "Big Boy Little" has been singing and playing blues harp in the Washington, DC area since 1967. He's opened for such blues greats as B.B. King, Koko Taylor and Junior Wells. The Big Boy Little Band was honored to represent the DC Blues Society at the Int'l Blues Challenge in 2010 and placed in the Top 10 Finals out of 110 blues bands from around the world and Matt Kelley won the coveted Albert King Award for top guitarist. The band also features "Wolf" Crescenze on bass and Andy Hamburger on drums.

The enigmatic, quixotic, mysterious, always entertaining – Big Boy Little Band.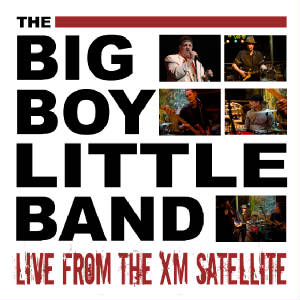 CD Recorded live at XM Satellite Studios!

Release date: Aug. 2010.

CD Release Party was held on Sat., Aug. 7, 2010 at the Zoo Bar Cafe with special guests XM Radio's "Bluesville" Channel 74 Host Bill Wax, The Nighthawks' Mark Wenner & Bruce Ewan + more!
August 2010 - CD, "Live From the XM Satellite" now playing on XM Radio & WPFW 89.3 FM - get you copy now! Available on Amazon, CD Baby, iTunes, Joe's Record Paradise and House of Musical Traditions.
June 2010 - check out "The Big Boy Little Band - On the Brink of a Breakthrough" article by Larry Benicewicz in the Baltimore Blues Society Newsletter - see article under "Press" link!
June 2010 - Big Boy Little Band now playing on XM Radio's Bluesville Station, Channel 74! (Big Boy Little Band was invited by Bill Wax to record live at Sirius XM Radio Studios - 8 originals & 1 cover! See pics of recording session.)
January 2010 - BBL finishes in Top 11 at the Blues Foundation's Int'l Blues Challenge in Memphis, TN - billed as the "World's Largest Gathering of Blues Bands" - out of 110 bands from 39 states and 14 countries!
It was an honor to represent the DC Blues Society and the DC blues community in Memphis!
A huge thank you to the DC Blues Society for sending us to Memphis and thanks to all our friends who have come out to hear us and made contributions to the trip fund! Thanks to the venues that hosted our Memphis trip fundraisers: Zoo Bar Cafe (Washington, DC), JVs Restaurant (Falls Church, VA) and Old Bowie Town Grille, as well as the musicians who performed at our fundraisers - we really appreciate all your support!
Bret's opened for B.B. King, Koko Taylor, Junior Wells, and more!

"Great job guys. You all sounded great."
– Bill Wax, XM Radio
l
"This guy's a real blues player."
- Huey Lewis of The News

"He was a major influence on shaping the Washington blues scene back then & he's still playing the real 100%, low down & dirty blues to this day."
- Bobby Radcliff

"Now Bret's back. I guess I better tighten up."
- Mark Wenner of The Nighthawks

"These guys play blues for grown-ups."
- Bill Kirchen
www.facebook.com/bigboylittleband